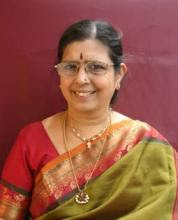 Dr. M.A.Jayashree
Faculty, Indica Courses
Dr. M.A. Jayashree is a retired Professor of Sanskrit, currently the director of Anantha Research foundation, Mysore, an institution engaged in foundational research work in the field of ancient sciences of India and also in the field of Sanskrit and Indian culture.
She holds a doctorate degree in Sanskrit from Bangalore University on the topic, "Concept of Mind in Indian philosophy" completed under the guidance of Prof K. T. Pandurangi.
She has many books, monographs and papers to her credit in the fields of Sanskrit, Ancient Sciences, Indian history, Culture, Music and so on. She holds a vidvat (master) degree in Carnatic classical music and is a Performing Musician. She is an accomplished artist in Mysore school of painting. She is the Vidwatpramukh for ItihasaSankalanaSamiti, Karnataka chapter.
She has a large following of overseas students to learn Yoga Sutras of Maharshi Patanjali and SrimadBhagavadgita. She has conducted many workshops on chanting of Yoga Sutras and Bhagavad Gita, given lectures on Yoga Philosophy and taught Sanskrit in an easy way in many parts of the world like Hong Kong, Thailand, America & Europe. She has also given several sessions in the "Evolution – Asia Yoga Conference " in Hong Kong for 3 consecutive years. She has produced many CDs and books as learning aids in the traditional method of oral chanting in the name 'Srutiparampara'.