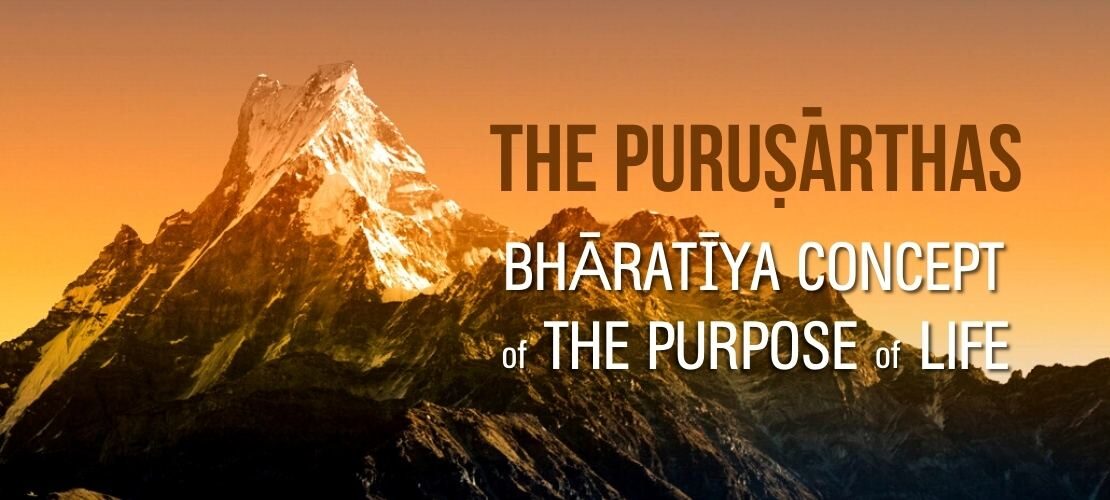 The Puruṣārthas – Bhāratīya Concept of the Purpose of Life
In the sanātana samskriti of Bhārata, the human way of life is mainly based on a value system which comprises both the universal as well as the individual values (Puruṣārthas). It not only helps to lead calm and collected life in this world (Iha) but also pave the way for total liberation from the exegesis of life and living (Parā).
Join this course to understand and practise these values.
Price
Course Fee: ₹3000.00

Medium of Instruction
English
Validity
One year from the beginning of the course
Delivery
Online through Indica Courses Learning Portal
Introduction
Life and living cannot be put in a strait jacket of do's and don'ts for it is not actions to be chosen between black and white. It is such a flexible process one should be aware of the time, place, circumstances and the disposition of the individual at that point of time, if it needs to be effective and fruitful. After all, 'values' means we have choices of paths to evaluate and seek relief from worldly issues as well as release from all the bondages created by our own actions. The whole domain is called Puruṣārthas (पुरुषार्थ) meaning goals of life, worthy of perusing and the methodology of attaining them. They are four in number.
Dharma (धर्म) – righteousness
Artha (अर्थ) – means
Kāma (काम) – desires
Moksha (मोक्ष) – liberation
The values can be, Satyam (Temporal values) and Rtam (Universal values).
They operate in domains called 'Iha' (the sensory world) and 'Parā' (beyond the sensory world). In each domain the very same Puruṣārthas gets different meanings in terms of practice.
Objectives
Guides everyone to know and how to imbibe those human values in life to a contented and blissful living.
Emphasis is on personality development.
Learning the concept of the Iha and Parā.
How to adapt the Ashtānga yoga lifestyle for such a personality transformation.
Expected Outcomes
To have a basic understanding of the Bhāratīya concept of values and bring them in practice to lead a value based life.
Understand the core concepts and frameworks of the Puruṣārthas.
To improve mindfulness and gain more maturity in their life and living style.
Knowledge of the basis for philosophy of yoga.
Beneficiaries
High-school (age 13-17), Undergrad students, Masters' students, Technical Professionals, Teachers, Managers, Self-employed, Creative Professional (art, design, architecture), Homemakers.
Anyone interested in understanding the basics of personality transformation according to the Sanātana culture of Bhārata.
Syllabus
Part-I
Introduction to the Sanātana value system, how it encompasses all possible avenues (1 class).
The major Puruṣārthas and other allied basic concepts (1 class).
The two aspects of Puruṣārthas namely iha & Parā (1 class).
The need for the sequence and to be applicable at what time, at what age and under what circumstances (2 classes).
The first "Kāma" (1 class).
The second "Artha" (1 class).
The Prime Puruṣārthas – "Dharma' (2 classes).
The fourth "Moksha" (1 class).
Part-II
The fluidity of the concepts despite having the common goal (2 classes).
Could such a concept be universally applicable (1class).
A simple comparison with other cultures and schools of thought (1class).
The value system's application in the major systems of knowledge (for ex: governance, aesthetics Etc.) and their relevance today (2 classes).
The basic requirements if it were to be brought into practice (1class).
How to enable people to gain eligibility to comprehend and feel involved in such a journey (3 classes).