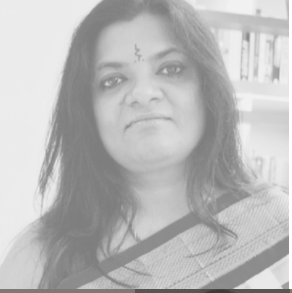 Sumedha Verma Ojha
Faculty, Indica Courses
Smt. Sumedha Verma Ojha is an author, columnist and speaker, born in Patna and educated in Delhi, graduate in Economics (Lady Sriram College) and post-graduate in Sociology (Delhi School of economics).
After 15 years in the Indian Revenue Service, she switched careers to research and write a book set in the Mauryan period based on the Arthashastra of Chanakya. 'Urnabhih' then expanded into a book series on the Mauryan Empire.
Sumedha is a Member of the Editorial Advisory Board at Indica Today an Indic Academy platform. She works in the area of translating and explaining the epics and bringing ancient Sanskrit/Prakrit literature to the English-speaking Indian as also in the area of a gendered analysis of ancient India.