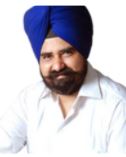 Ranjit Singh Khuller
Faculty, Indica Courses
Ranjit Singh Khuller is a  certified  NLP trainer, a management consultant and an innovative human resource trainer with niche areas of expertise & contribution. He works on result oriented customized projects for corporates, institutions and individuals to enable business success through people and management process excellence.
He has a work experience of 25 years which comprises of 15 years of training and sales and 10 years devoted to NLP. He has authored the book "Secrets of sales excellence with NLP".
Ranjit has an inclination towards studying and propagating Indian culture, festivals, beliefs, sayings, arts and different styles of meditation and ways of worship.