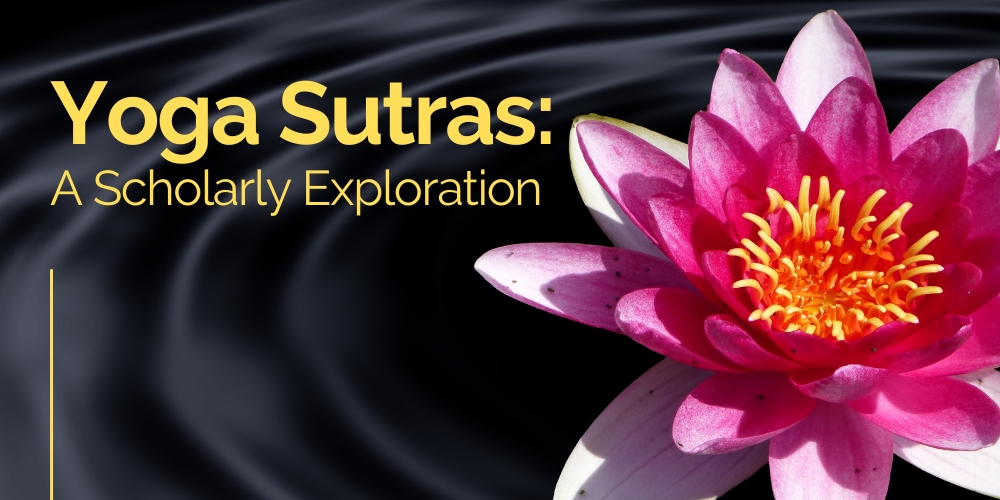 Yoga Sutras: A Scholarly Exploration
In this weekend residential workshop, we aim to explore the wisdom of the Yoga Sutras through a unique lens. We will delve into understanding how their teachings can be integrated into our modern lives, all while providing a comprehensive Faculty Development Program for educators. This program is designed to equip faculty with the tools and knowledge they need to integrate yoga philosophy into their teaching methods effectively. It is open to scholars, academicians and enthusiasts.
Enroll Now
Date & Time
6 October 2023 - 8 October 2023
Friday 3 PM IST-Sunday 3 PM IST
Friday, Saturday and Sunday
Medium of Instruction
English
Introduction
We invite you to embark on a transformative journey into the heart of the Yoga Sutras, one of the foundational texts of yogic philosophy, as part of our unique Faculty Development Program. This program aims to provide educators with a comprehensive understanding of yogic philosophy and practical tools to incorporate it into their teaching methods. Our workshop combines scholarly exploration with experiential learning, utilizing a blend of guided discussions, reflective practices, and immersive sessions, all designed to enhance teaching skills and promote innovative pedagogy.
Composed by Rishi Patanjali over 2,000 years ago, the Yoga Sutras are a profound guide to the philosophy and practice of yoga. They lay out a pathway to self-realization, mindfulness, holistic wellbeing, and inner peace. In this workshop, we will explore the timeless teachings of the Yoga Sutras and their profound implications in our modern lives. Whether you are an enthusiast, a beginner curious about yoga philosophy, a scholar, an academician, or an educator looking to enhance your teaching methods, this retreat will provide valuable insights into the ethical precepts, physical postures, breath control techniques, and meditation practices outlined in the Yoga Sutras.
Join us for this immersive experience as we journey together towards self-discovery, mindfulness, and inner harmony. Be it personal development or the enhancement of your teaching skills, this program promises a transformative experience. We look forward to welcoming you to this enriching and enlightening journey.
Objectives
To provide an in-depth understanding of the Yoga Sutras and their timeless wisdom
To facilitate dialogue, reflection, and application of the teachings of the Yoga Sutras in contemporary life
To promote the practice of yoga and mindfulness as tools for personal and societal well-being
Outcomes
By the end of the retreat, participants will have gained a deeper understanding of the Yoga Sutras and their relevance in our contemporary world. Participants will also be equipped with practical tools and insights to apply these teachings in their everyday lives for greater mindfulness, peace, and fulfillment.
Schedule
Day 1: Arrival and Introduction
Arrival and Settling In
Welcome Address & Workshop Overview
Introduction to Yoga Sutras: "The Eightfold Path of Yoga"
Dinner and Casual Conversations
Day 2: Unfolding the Yoga Sutras
Early Morning Yoga and Meditation (Optional)
Breakfast and Reflections
"The Ethical Precepts of Yoga: Yamas and Niyamas"
"Asana and Pranayama: Cultivating the Body and Breath"
Lunch and Reflections
"Dharana, Dhyana, Samadhi: The Path of Concentration and Meditation"
Evening Meditation and Reflections
Dinner and Fireside Discussions
Day 3: Integration and Reflection
Early Morning Yoga and Meditation (Optional)
Breakfast and Reflections
Group Activity: "Integrating the Teachings of Yoga Sutras into Daily Life"
Closing Circle: Sharing Experiences and Insights
Lunch and Departure
Certificate
A week following the workshop, a certificate of participation will be awarded. This certificate serves as a token of the knowledge gained during the workshop and can be downloaded from our portal. Participants will receive a notification on their registered email id.
Venue
ATS GENETECH PRIVATE LIMITED
8-2-293/174/A25, Opposite KBR Park, Road No. 14, Banjara Hills, Hyderabad
Telangana, INDIA – 500 034
Logistics
Please note that the workshop is free. The charge of INR 6000 is towards stay and food arrangement. The same will be provided from Friday evening to Sunday afternoon. Participants are expected to report to the venue on Friday, the 6th of October, by 2 PM IST.
Enroll Now