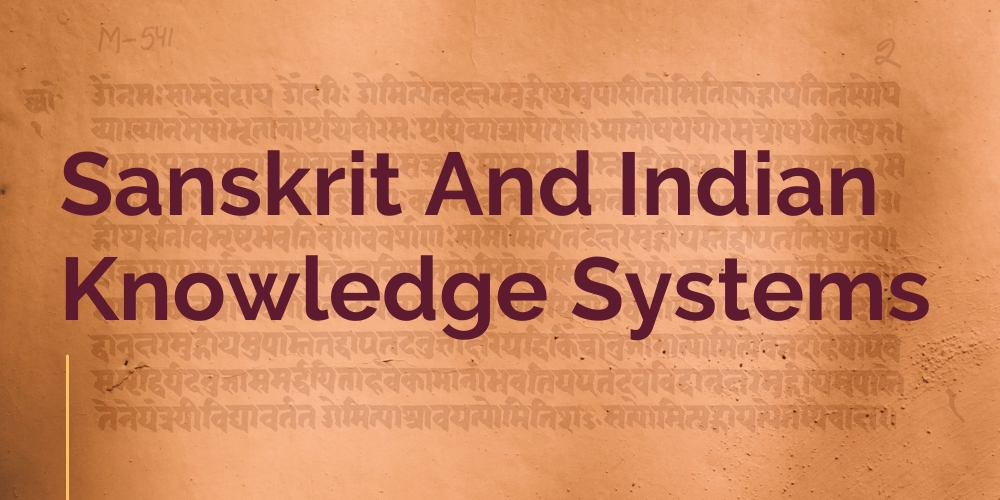 Sanskrit and Indian Knowledge Systems
This INDICA residential weekend workshop aims to introduce the Sanskrit Language, Literature, and their relevance to Indian knowledge systems. We'll explore how Sanskrit-rooted ancient wisdom can be applied in modern society. The workshop, on the lines of a faculty development program, is designed to enhance educators' understanding of Sanskrit and Indian wisdom, and equip them with effective teaching methodologies for these topics.
Participants will gain insights into the features, uses, and applications of Indian knowledge systems. This comprehensive approach seeks to bridge the gap between ancient wisdom and its practical applications today, enabling educators to better facilitate this ancient knowledge in modern classrooms.
Date & Time
25 August 2023 - 27 August 2023
Friday 3 PM IST-Sunday 3 PM IST
Friday, Saturday and Sunday
Medium of Instruction
English
Introduction
This unique workshop is not only a journey into the rich, ancient world of Sanskrit and its integral role within Indian knowledge systems but also an opportunity for faculty development. As we delve into the distinctive features of this timeless language, our goal is to provide a comprehensive understanding of the profound Indian wisdom it encapsulates. Included in the workshop is a faculty development program, designed to equip educators with the knowledge and pedagogical skills to effectively teach Sanskrit and its relevance to Indian wisdom. This allows for the enrichment of teaching capabilities and the propagation of this age-old knowledge in modern classrooms.
This isn't merely a linguistic exploration—it's an appreciation of India's vibrant cultural heritage, an interactive learning experience, and an invitation to further study through extensive resources. We aim to unlock the timeless wisdom of Sanskrit, illuminating its enduring relevance in our modern society.
The workshop not only introduces you to the profound insights rooted in Sanskrit but also promotes cross-cultural dialogue, facilitating a deeper global understanding of diverse traditions. As we embark on this intellectual expedition, we welcome you to discover the beauty and wisdom of Sanskrit, its impact on teaching and learning, and its seamless relevance to the rhythm of contemporary life.
Objectives
Provide a concise introduction to Sanskrit language, literature, and its relevance in Indian knowledge systems
Explore the practical applications and contemporary significance of ancient Sanskrit wisdom
Understand the distinctive features and structures of Sanskrit language and literature
Examine the diverse range of topics and fields covered in Indian knowledge systems
Foster appreciation for the cultural heritage associated with Sanskrit and promote cross-cultural dialogue
Facilitate interactive learning experiences and provide resources for further study
Outcomes
Develop a foundational understanding of the Sanskrit Language, Literature, and its significance in Indian knowledge systems
Gain insights into the ancient wisdom and techniques rooted in Sanskrit, forming the basis of Indian knowledge
Acquire the ability to apply the principles of Sanskrit wisdom in modern contexts and recognize its relevance in contemporary society
Identify and appreciate the distinctive features, uses, and applications of Indian knowledge systems across various fields
Cultivate a comprehensive understanding of the topic, enabling participants to engage in meaningful discussions and further exploration
Foster an appreciation for the cultural heritage associated with Sanskrit and promote cross-cultural dialogue and understanding
Schedule
Day 1
Arrival & Settling In
Welcome Address & Overview of the Retreat
Introduction to Sanskrit: Origins, significance, and historical context
Interactive Session-Introduction to the Indian Knowledge Systems and Indian Knowledge Traditions.
Dinner and Informal Discussions
Day 2
Breakfast and Informal Discussions
Unlocking the Vedic Corpus: Exploring Ancient Wisdom and Insights
Embarking on the Path of Wisdom: Exploring the Vedantas
Unlocking the Sacred Knowledge: Delving into the Vedangas
Lunch and Networking
Unraveling the Epic Journey-1: Introduction to the Ramayana
Unraveling the Epic Journey-2: Introduction to the Mahabharata
Essential Foundations: Unraveling the Vocabulary of Indian Knowledge Systems
Epic Tales of Creation and Beyond: Unveiling the Rich Content of the Puranas
Dinner and /informal Discussions
Day 3
Breakfast & informal Discussions
Cracking the Code-1: Decoding Sanskrit Grammar
Navigating the Realm of Philosophy: Exploring Indian Philosophical Systems.
Practical Exercises: Language exercises, readings, and discussions to enhance understanding and engagement
Distinctive Features and Applications: Exploring the unique characteristics and practical uses of Indian knowledge systems
Closing Remarks
Lunch & Departure
Certificate
A week following the workshop, a certificate of participation will be awarded. This certificate serves as a token of the knowledge gained during the workshop and can be downloaded from our portal. Participants will receive a notification on their registered email id.
Venue
Montfort Spirituality Center, Indiranagar, Bengaluru
Logistics
The workshop fees includes stay and food arrangements from Friday evening to Sunday afternoon. Participants are expected to report to the venue by 2 PM IST.