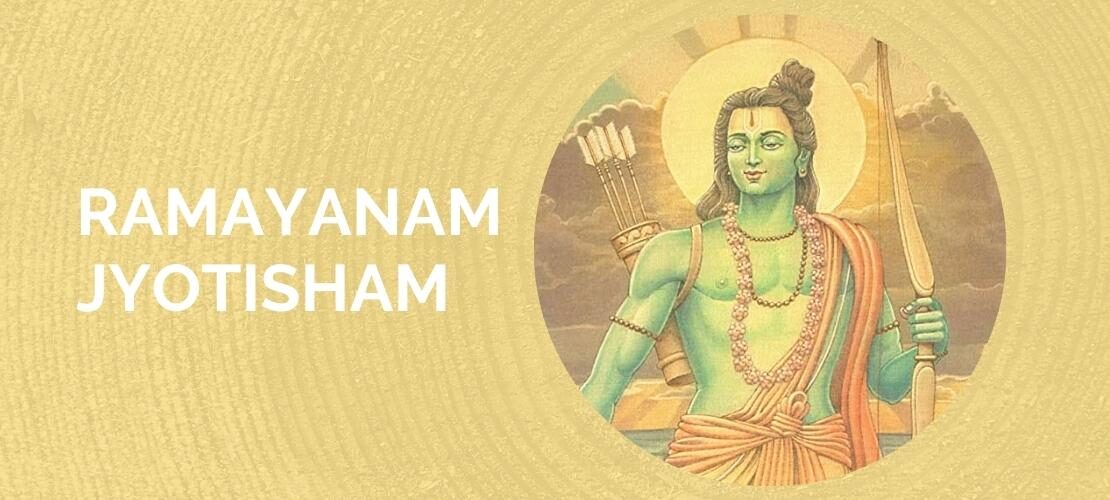 Ramayanam – Jyotisham
Ramayana, the first poetic composition, is rightfully described as text of manava shastra. The various socio-economic, political, psychological, geographical and more uniquely the dharmic aspects described in Ramayana have shaped people's personalities and societies on this earth for yugas. In this course, we find gleanings of Jyotisha shastra from Ramayana and its applications in the present-day society
Medium of Instruction
Telugu
Eligibility
Understanding Telugu, Knowledge of Jyothisha and Ramayana
Validity
One year from the beginning of the course
Delivery
Online through Indica Courses Learning Portal
Introduction
It is well known that poetic works have mirrored the prevailing socio-economic conditions of that time. Given its impact on the society, it is not surprising that Jyotisha shastra also rightly finds its presence in the first poetic composition, the Ramayana. The saying,
रामादिवत् प्रवर्तितव्यं न तु रावणादिवत्
is the greatest and profound teaching of Ramayana.
By his righteous behaviour, Rama set us an example to lead not only a good life but also adapt ourselves on our spiritual journey. In this perspective, Dr. C.V.B Subrahmanyam, takes us on a journey into Ramayana drawing deep insightful parallels between the planetary placements in the horoscope of Rama and his character. A gleaning of the applications of Jyotisha in the life of Rama will help us discover positive aspects in our lives to chisel our personalities for the greater good of the society.
Objectives
Analyse Jyothisha perspectives of Ramayana
Understand the relationship between Jyothisha and character of a person to Rama
Character development with Rama as an example
Expected Outcomes
Learn about the Jyotisha perspectives of Ramayana
Understand psycho-social influences on the personality of a person
Application of Jyotisha for spiritual upliftment.
Beneficiaries
A person having knowledge of Jyothisha and interest in Ramayana.
రామాయణం – జ్యోతిషం
ప్రతి కావ్యం లోను సామాజిక స్పృహ  ఉంటుంది.  సామాజికశాస్త్రాల అవగాహనా ఉంటుంది. జ్యోతిషం సామాజికావసరమైన శాస్త్రం కావడం వల్ల ఆదికావ్యం లోను చోటుచేసుకొంది. విశేషించి రామాదివత్ వర్తితవ్యం నతు  రావణాది వత్  అన్నరీతిలో రాముడు జ్యోతిషాన్ని ఎలా వాడుకొన్నాడో అతనిలా మనం వాడుకొంటే మనజీవితాన్ని ఆధ్యాత్మిక వికాసానికి అనుగుణంగా మలచుకోవడమెలా అని అర్ధం అవుతుంది.  రామాయణం లో ఉన్న జ్యోతిషాంశాలు తెలియడం కోసం రాముని జాతకం తో అతని
జీవితాన్ని సమన్వయం చేసుకోవాలి.  జ్యోతిషదృక్కోణం లో రామాయణం లోని అంశాలను అవగాహన చేసుకోవాలి. ఆలక్ష్యం తో రామాయణం లోని జ్యోతిషం అనే తరగతులను నిర్వహించాలని సంకల్పించడం జరిగింది.
జ్యోతిషం లోను రామకథలోనూ అవగాహన కలిగి ఉన్నవారు చేరవచ్చును. రాముడు చూపిన మార్గం తెలుసుకోవడానికి చేసే ప్రయత్నమే ఈ తరగతులలో చేస్తాము. రామకథ జ్యోతిషానికి వర్తించే తీరు వివరించడం జరుగుతుంది  ఈ సమన్వయము అపూర్వం.  ఈలాటి తరగతుల ద్వారా మనసంస్కృతిపై అవగాహన కల్పించేప్రయత్నం ఇండిక్ అకాడమీ చేస్తున్నందుకు అభినందిస్తూ వారికృషిని మనం సద్వినియోగం చేసుకొందాము.
అధ్యయనాంశాలు – Syllabus
జ్యోతిషం త్రిస్కంధాత్మకం (Jyotisham and it's 3 Skandas)
హోరాస్కంధం (Hora Skanda) దశరథ,రామ,లక్ష్మణ ,భరత ,శత్రుఘ్నుల జాతకాలు (Horoscopes of Dasaratha, Rama, Lakshmana, Bharata and Shatrughna)
సంహితా స్కంధం (Samhita Skanda)
శకునము (Sakunam)
సాముద్రికం (Samudrikam)
స్పన్దనలు (Spandana)
వాస్తు (Vastu)
ముహూర్తం – వివాహం పట్టాభిషేకము (Muhurtam – Vivaham and Pattabhishekam)
గృహప్రవేశం యుద్ధముహుర్తం (Grhapravesam, Yuddha muhurtam)
స్వప్నము (Svapnamu)
గోచారం (Gocharam)
బాలకాండ (Balakanda)
అయోధ్యకాండ (Ayodhyakanda)
అరణ్యకాండ (Aranyakanda)
కిష్కింధకాండ (Kishkindakanda)
సుందరకాండ (Sundarakanda)
యుద్ధకాండ (Yuddhakanda)
ఉత్తరకాండ (Uttarakanda)
రాముని జననకాలం (Rama jananakalam)
రామాయణం మార్గదర్శనం (Ramayanam margadarsanam)