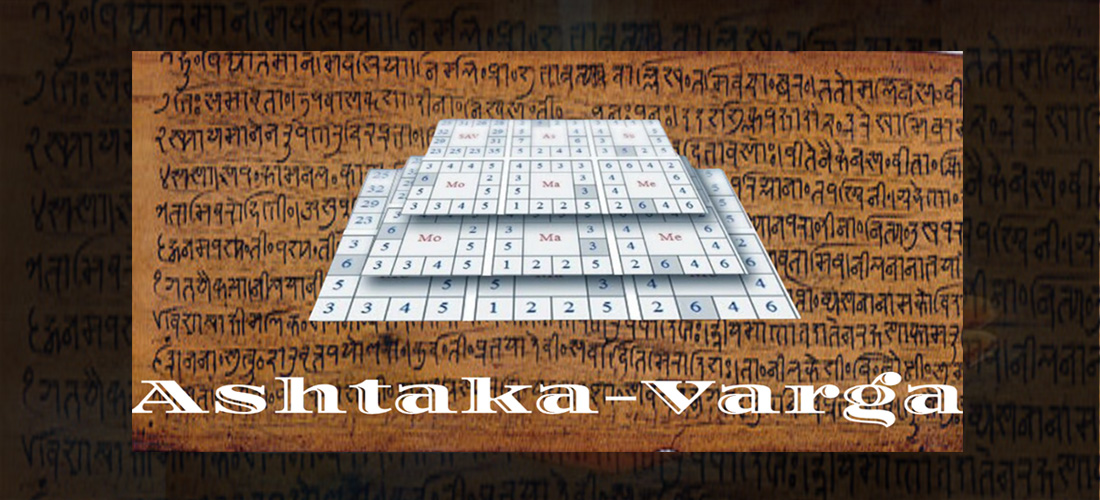 Ashtaka-Varga: A Study in Phalita Jyotisha
Ashtaka-varga is one of the important but lesser explored aspects in Predictive Astrology. Knowledge of Astaka-varga brings clarity about the Bhavabalas thereby increasing the accuracy of the predictions.  It is a unique feature to a person's natal chart. A person can properly utilize his time, money and efforts by pursuing his strengths as determined by the study of Ashtaka-varga in his horoscope.
Medium of Instruction
Telugu
Eligibility
Require Basic Knowledge in Astrology
Validity
One year from the beginning of the course
Delivery
Online through Indica Courses Learning Portal
Introduction
Ashtaka-varga is a unique system that greatly enhances the accuracy of predicting results in a person's native chart.
अष्टकवर्गं विना दशाफलम् न वक्तव्यम् – पृथुयशस्
सूक्ष्माष्टकवर्गसंशुद्धिः स्थूला शुद्धिस्तु गोचरे – राजमार्तंडः
Prthuyasassu (Varahamihira's Son) has laid down that Dasaphalam should not be reported without the  study of Ashtaka-varga results. Rajamartamda states that the strengths of grahas can be known in general by assessing their  movements (grahacharam) whereas specific strengths can be assessed by knowing the Ashtaka-varga. However, more than 90% of Jyotisha Pandits are giving out chart predictions without assessing the Ashtakavarga values in a native's chart. Ashtaka-varga is an essential part of Phalita Jyotisha. For example, the seven and half year Shani period (Gochara) starts at the same time for all people in a rashi, but the results  experienced are different for each person. It should be noted that the reason for such differences can be known from Ashtaka-varga study only. So also Ashtaka-varga study is the only  way to show, with reasoning, as to why a few aspects are good and few are bad in one dasa period.
Objectives
Understand definition of Ashtakavarga
Understand the difference in the analysis of a horoscope with and without the Ashtakavarga values in a chart.
Beneficiaries
Students of Astrology (Astrology and Social Sciences)
Practicing Astrologers
Practicing Purohits
Expected Outcomes
Create and spread awareness about the use of Ashtaka-varga in Predictive Astrology
Learn about calculating Astaka-varga in a natal chart
Learn application of Astaka-varga in increasing the correctness of predictions
ఫలితజ్యోతిషం లో అష్టక-వర్గు అధ్యయనం
అష్టకవర్గం వినా దశాఫలమ్ న వక్తవ్యమ్ – పృథుయశస్సు
సూక్ష్మాష్టకవర్గసంశుద్ధిః స్థూలా శుద్ధిస్తు గోచరే – రాజమార్తండః
అష్టక-వర్గు లేకుండా దశా ఫలం చెప్పకూడదు అని పృథుయశస్సు (వరాహమిహిరుని కుమారుడు) తెలిపాడు. గ్రహచారం వలన తెలిసే బలం స్థూల మైనది. అష్టక-వర్గు ద్వారా తెలిసే బలం సూక్ష్మమైనది. కానీ అష్టక-వర్గు చూడకుండానే 90% జ్యోతిష్య శాస్త్రజ్ఞులు ఫలితాలు చెబుతున్నారు. ఆ కారణమున అష్టక-వర్గు ఫల విచారణ జ్యోతిష విద్యార్థులకు పరిచయం చేసే ఉద్దేశంతో ఈ కోర్సు నేర్పుతున్నాము. ఇది అత్యవసరమైన ఫలిత జ్యోతిషాంశం. గోచారంలో ఒక రాశి వారికి అందరికీ ఏలినాటి శని ఒకసారి ప్రారంభమైనా ఫలితాలు ఒకలాగా ఉండవు. ఆ మార్పులకు కారణాలు అష్టక-వర్గు లోనే గోచరిస్తాయి. ఒక దశలో కొన్ని విషయాలు బాగుండటం కొన్ని విషయాలు బాగుండకపోవటం అనే విభజనకు సహేతుక వివరణ అష్టక-వర్గు మాత్రమే ఇవ్వగలదు, వేరే ఏ విధానము ఇవ్వలేదు. వ్యక్తి తన శ్రమ, కాలము, ధనము వ్యర్థం కాకుండా రాణించే విషయాలలోనే తన శ్రమను వినియోగించడానికి అష్టక-వర్గు ఉపయోగపడుతుంది.
అధ్యయనాంశాలు – Syllabus
అష్టక-వర్గు – ప్రయోజనం (Ashtaka-varga – Purpose)
జ్యోతిషాంశాల పారిభాషిక పద వివరణ (Explanation of Jyotisha Terminology)
అష్టక-వర్గు చక్ర నిర్మాణం (Ashtaka-varga Chakra Preparation)
రాశిచక్ర నిర్మాణం (Rashi Chakra Preparation)
త్రికోణ శోధన – ప్రయోజనం (Tikona Shodhana – Purpose)
ఏక ఆధిపత్య – శోధన ప్రయోజనం (Ekadhipatya Shodhana – Purpose)
భావబల నిరూపణ (Bhavabala Determination)
భావాలు పోలికలు (Bhavas – Similarities)
దశలు -అష్టక-వర్గు (Dasas – Ashtaka-varga)
గోచారం అష్టక-వర్గు (Gochara – Ashtaka-varga)