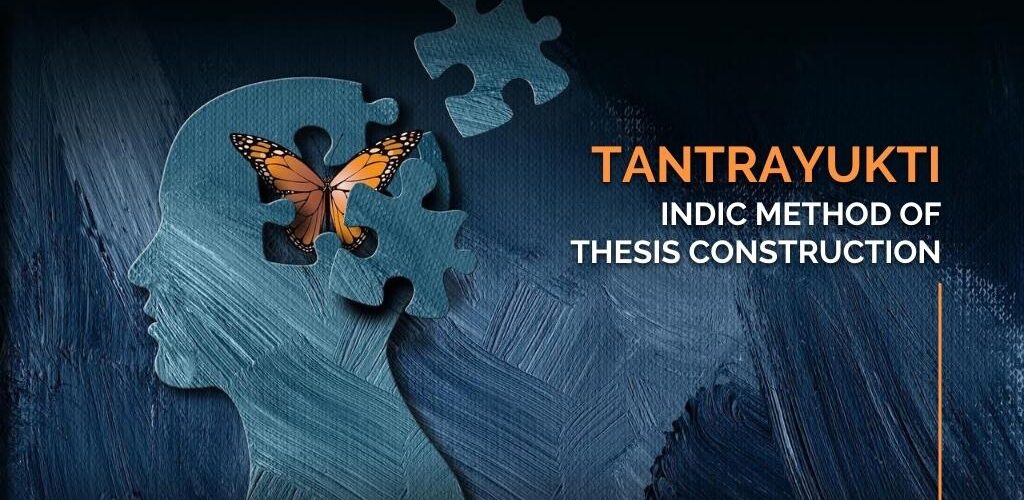 Tantrayukti – Indic Method of Thesis Construction
Tantrayukti is the discourse-binding rationale employed in the form of conventions used in Indic knowledge texts.  Employing these devices in thesis/text writing ensures coherence and conciseness in the expression of thoughts and arguments in defending the concepts.
This Indica Course is aimed to revive this glorious tradition for authentic study of Indic knowledge as well as contemporary applications.
Enroll Now
COHORT COURSE*
*The Course will be offered in the self-paced model if the number of registrations is less than 15.
Date & Time
2 February 2022 - 6 April 2022
Medium of Instruction
English
Delivery
Online through Indica Courses Learning Portal
Introduction
Research methodology is an important subject for any research scholar. India has its own homegrown methodologies and techniques of research including specialized textual structures, coding and interpretation of content in large-volume texts and strict conventions of discourse. The present course, in the current day context, gives an insight into India's systematic approach to thesis/text construction through an ancient set of devices called Tantrayukti, in terms of its content, structure and the language.
Objectives
Develop a basic understanding of building blocks of a thesis/text.

Exposure to classical Indian systematic approach to organize thoughts of any subject

To learn the attributes of a good thesis/text and common defects in thesis construction
Expected Outcomes
Empower to decode the blueprint of any text – ancient or contemporary

Enable to evaluate the merits and demerits of any given text – ancient or contemporary

Encourage to attempt a direct application of ancient mode of thinking in current context and verify its efficacy
Syllabus
Unit–1: Introduction to textual wealth and the need to organize knowledge in Sanskrit tradition
Intellectual climate for knowledge creation – The Upanishads.  Knowledge Explosion – Textual Wealth of Ancient India 

Fourteen Vidyasthanas

Six Vedangas

Darshanas – Six orthodox and three heterodox

Itihasas – Two Epics

Puranas – 18 Mahapuranas

Poetry – Literature

Technical-Scientific literature

Organizing knowledge for preservation of knowledge. Major varieties of texts of Sanskrit traditions and their definitions 

Sutra – An aphoristic treatise

Bhashya – A commentary

Varttika – A text of revisions and rejoinder

Karika – A versified technical treatise

Vyakhya – A gloss

Scattered hints for construction of various components of texts/thesis 

Thoughts as seeds and it varieties – Vrittis and their definitions

Definition of question – Prashna lakshanam

Definition of answer – Uttara-lakshanam

Definition of a segment – Adhikarana-lakshanam

Creating a hypothesis and systematically addressing it – Panca-avayava-vakya

Conveying a single theme throughout a text – Tatparyanirnayaka-lings

Defining the scope of a work – Avoiding avyapti and the other two doshas
Unit–2: Tantrayukti–Comprehensive text construction manual–Introduction, History and Components
Definitions and derivations of Tantrayukti

Component of Tantrayukti

Tantrayukti/ Tantrasampat

Tantraguna

Tantradosha

History of Utilization – In Sanskrit Literature – 1500 years

Texts of philosophy

Text of polity

Ayurvedic texts

Puranic text

Tantrasastra texts

Works on tantrayukti

In Tamil Literature – 1900 years

Functions of Tantrayukti as has been discussed in the texts
Unit–3: Tantrayukti–The tools with definitions based on Arthashastra and illustrations from texts of diverse disciplines
The number of Devices – 32/36

The Yuktis/Devices of thesis construction with definition and illustration

For Content creation – 11 yuktis

To structure the text/thesis – 12 yuktis

To refine Language – 9 yuktis

Tantragunas and Tantradoshas – A few illustrations

Scope of further work: In consolidating the tantrayukti as a trans-discipline, trans-lingual methodology of construction and interpretation of texts of past and contemporary times
Reading List
Lele, W.K, (2006), Methodology of Ancient Indian Sciences, Chaukhamba Surabharati Prakashan, Varanasi

.

Muthuswamy, N.E., (1974), Tantrayuktivicāra, Publication Division, Government Ayurveda College, Trivandrum.

Tantrayukti – An ancient Indian Scientific & Theoretical Text Construction Manual

https://indiachapter.in/user/article/2/36/20

 

Video: A Talk:

Tantrayukti – Tandiravutti, An Ancient Pan-Indian, Trans-lingual, Text-construction Manual – https://www.youtube.com/watch?v=Q2JzqYjCjMU&t=1s  – 

Dr. Jayaraman –

57:56

 
*Please note that if the number of registrations is less than 15, this Indica Course will be offered in the self-paced mode. The change of format shall be notified through email. Learners will also be notified when pre-recorded lectures are available for their perusal on the learning portal. There will no change in the course fee. Learners not interested in pursuing the self-paced format can either request for a transfer into any existing or upcoming course or a credit voucher redeemable in future for another course.
₹3500 (+ 3.5% online fee)