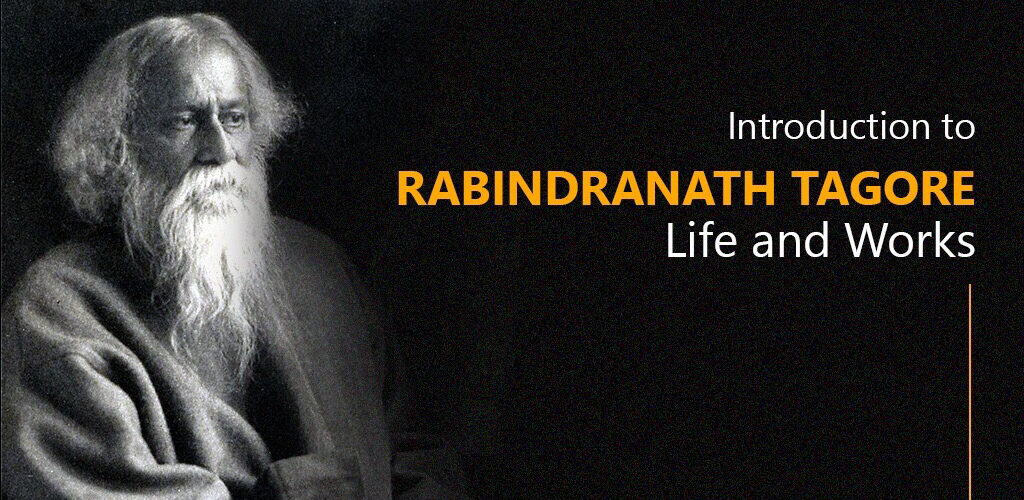 Introduction to Rabindranath Tagore : Life and Works
What are the metaphysics and ethics that undergird the creative impulses of Rabindranath Tagore, Asia's first Nobel laureate and composer of the national anthem of India?
This INDICA course will offer you a chance to immerse yourself in the life and works of the "Poet Laureate of India," helping you discover the deeper aesthetic, philosophical, and spiritual roots of the Sūkti-s or noble utterances of a Modern Indian Rishi.
Date & Time
20 March 2023 - 29 May 2023
Every Monday (Except 24th April 2023)
Medium of Instruction
English
Validity
One year from the beginning of the course
Delivery
Online through INDICA Courses Portal
Introduction
This Indica Course will offer an immersion in Tagore's creative and critical corpus to help the learner understand the keynote of Tagore's monumental literary, artistic, and altruistic oeuvre – which is the unique Hindu emphasis on aspiring for the higher modes of existence, the life of the spirit, without denying the life of flesh and blood for a moment, while treating the latter as an important site of the unfolding of – and a veritable proof of – the former.
Lectures, presentations, guided critical readings of texts, and carefully selected course material, will help the learner acquire essential reading and interpretive skills to understand the deeper aesthetic, philosophical, and spiritual roots of Tagore's literary and extra-literary oeuvre.
Course Objectives
To derive emic insights into the historical and cultural conditions that made the 'event' of Rabindranath Tagore possible and helped it thrive in more ways than one through guided reading, listening discussions, and reflection on Tagore's oeuvre.
To garner enough biographical information to aid our reading, understanding, and interpretation of Tagore's literary and extra-literary corpus.
To come to a conceptual and intuitive understanding of the aesthetic, philosophical, and religious-spiritual roots of Tagore's works through an appreciation of the linguistic, musical, and artistic media deployed by the Poet.
To appreciate and critically scrutinize Tagore's literary and extra-literary corpus vis-à-vis the religious-spiritually inflected literary and artistic tradition of Bengal in particular and India in general.
Course Outcomes
Situate Tagore's life and works within a civilizational continuum
Intuit the religious and spiritual impulses working through Tagorean expressions, sounds, and imageries ubiquitously found in his poetry, music, prose, and paintings
Understand the deeper motivations behind Tagore's creative social entrepreneurship, his political activism, as well as his educational and institution-building endeavors
Appreciate the literary-aesthetic-artistic and religio-spiritual traditions of India with enhanced clarity and deepened sensibility
Contextualize some of the seemingly disparate pieces of Indian socio-cultural history within an emic metanarrative of the Indic civilization
Course Syllabus
This course consists of four closely interlinked modules. A brief indicative breakdown of each of these four modules is as follows:
Module I: The Life and Times of Rabindranath Tagore 
Bengal and India in the 18th and 19th centuries
The Tagores of Jorasanko, Calcutta
The Brahmo Samaj
'Childhood, Boyhood, Youth'
Biharilal, Bankim, Jyoti Dada, and Rabi
From Hindu Mela to the Bengal Partition 1905
The Brahmacharya Ashrama at Santiniketan
Nobel Prize and Around the World in One Lifetime
Visva Bharati
India's Struggle for Freedom and Rabindranath
The Final Years
Module II: Understanding Tagore through His Poetry, Music, and Drama
Sanskrit poetry, Indian poetics, and Tagore's poetry
Bengali literary history and Tagore
Tradition and beyond
"Tumi Bondhu, Tumi Nath": Gitanjali and the Song Offerings
From Balmikipratibha to Tasher Desh and Raktakarabi
Selected translations of Tagore's poetry and song lyrics
Tagore and Vedic hymns
Tagore and the Vaiṣṇava Padāvalī
Module III: Understanding Tagore through His Novels, Short Stories, Letters, Memoirs, and His Critical Corpus
Indian history, Indian society, and the 'Indian Mind' as interpreted by Tagore
Guptadhan or the Hidden Treasure
Gora
Ghare Baire
Chhelebela, Atma-Parichay and Jibansmriti
Selected essays from Bharatbarsha
Selections from Swadeshi Samaj and Atmashakti 
Module IV: Understanding Hinduism through Tagore and Vice Versa
Tagore's writings on Dharma/Dhamma
The Sikh Gurus in Tagore's writings
Sriniketan: Rural Reconstruction and Tagore
Santiniketan: the book and the Ashram
Visva-Bharati: the book, the philosophy, the university, and a poet's life of toil
Reading List
The course instructor selected translations of Tagore's poetry, songs, and essays.
Tagore, Rabindranath. Gitanjali (Song Offerings). 1917.
Tagore, Rabindranath. Swadeshi Samaj. Translated by Anasuya Guha, Dey's Publishing, 2006.
Tagore, Rabindranath, and Sisir Kumar Das (ed.). The English Writings of Rabindranath Tagore: Essays. Sahitya Akademi, 2007.
The English Writings of Rabindranath Tagore: Plays, Stories, Essays. Sahitya Akademi, 1994.
The English Writings of Rabindranath Tagore: Poems. Sahitya Akademi, 2004.
The English Writings of Rabindranath Tagore: A Miscellany. Sahitya Akademi, 1994.
Watch this video for a detailed course overview