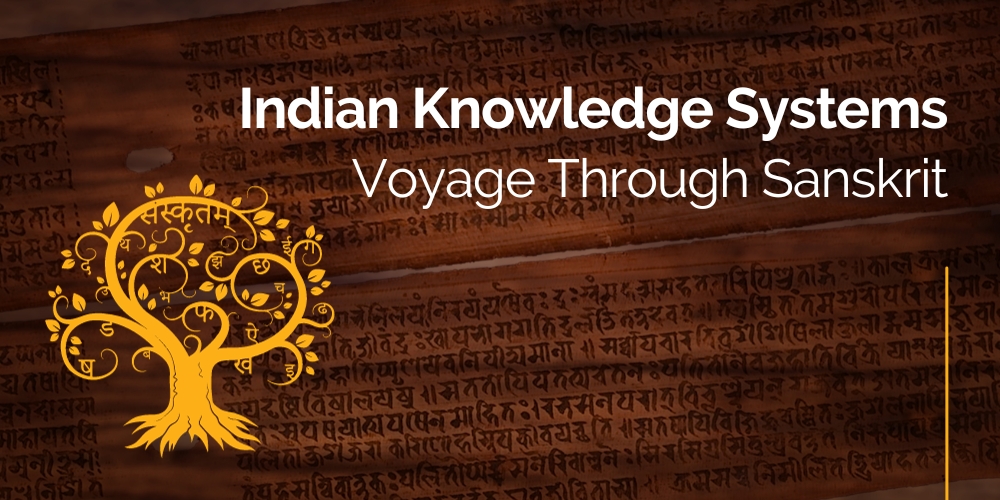 Indian Knowledge Systems : Voyage Through Sanskrit
Indian Knowledge Systems (IKS) encompass the broad and ancient array of knowledge and wisdom cultivated in the Indian subcontinent over many millennia. Covering fields such as philosophy, science, mathematics, medicine, spirituality, and arts, Indian Knowledge Systems draw deeply from India's cultural, spiritual, and philosophical heritage, offering a holistic and interconnected approach to understanding both the universe and human existence.
This INDICA course is a gateway to delve into the rich tapestry of Indian culture, philosophy, and knowledge. It emphasizes the pivotal role of Sanskrit in unveiling the intricacies of Indian Knowledge Systems. Seize this opportunity to enhance your perspective on the interdependence of language and knowledge within the magnificent realm of Indian heritage. Secure your spot now!
COHORT COURSE*
*The Course may not be offered if the number of registrations is less than 15.
Date & Time
1 November 2023 - 20 December 2023
Every Monday and Wednesday
Medium of Instruction
Sanskrit, English, Hindi
Validity
One year from the end date of the course
Delivery
Online through INDICA Courses Portal
Introduction
Embark on an enlightening journey to fathom the depth and diversity of Indian Knowledge Systems (IKS), emphasizing the crucial role of Sanskrit in preserving and conveying this ancient and vast body of knowledge.
Course Objectives
Introduce the foundational vocabulary of IKS through the basics of Sanskrit, illustrating the significance of the language in accessing and interpreting Indian Knowledge Systems.
Provide insights into the multifaceted dimensions of IKS, fostering an appreciation and understanding of its extensive scope.
Course Outcomes
Upon completion of this course, participants will:
Gain acquaintance with the extensive IKS corpus, appreciating the fundamental role of Sanskrit in encoding and transmitting such knowledge
Develop a deep appreciation and understanding of the intricate interrelation between Sanskrit and IKS
Achieve proficiency in IKS terminology, enabling a richer exploration and pursuit of Indian Knowledge Systems
Course Syllabus
Introduction to IKS and Sanskrit:

The Vedic Corpus: Understanding the Origins
Vedangas: A Holistic Overview
Niruktam: Exploring the Science of Etymology

Core IKS Vocabulary : Exploration of Sanskrit Terms

Comprehensive analysis and contextual exploration of terms such as धर्म, कर्म, मोक्ष, आत्मा, पञ्चमहाभूत, इतिहास, पुराण, दान, पुण्य, यज्ञ, शक्ति, लोक, देश, राष्ट्र focusing on their evolution, usage, and significance in primary texts.
Course includes
Live sessions
Access to class recordings (for asynchronous participation)
Certificate of Completion upon successful course completion
*Please note that if the number of registrations is less than 15, this Indica Course may not be offered. Learners will be notified about this decision, and their money will be refunded.