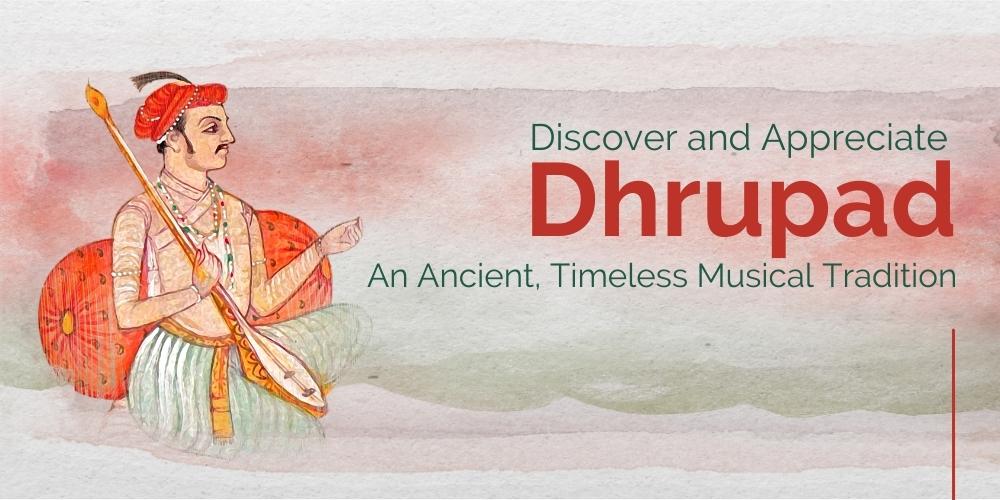 Discover and Appreciate Dhrupad: An Ancient,Timeless Musical Tradition
Enroll in the INDICA Course to explore and gain a deep appreciation for Dhrupad, one of the world's most ancient and enduring musical systems. This course offers valuable knowledge on the history and development of this art form, as well as insights into its philosophy and aesthetic principles. Immerse yourself in the music itself and learn to truly appreciate its beauty through this engaging and immersive experience.
Date & Time
17 June 2023 - 26 August 2023
Medium of Instruction
English
Validity
One year from the beginning of the course
Delivery
Online through INDICA Courses Portal
Introduction
Dhrupad, originating from the Sama Vedic traditions, stands as one of the oldest surviving musical traditions worldwide. Renowned musicians like Tansen, who belonged to Akbar's court, and his contemporaries elevated Dhrupad to its pinnacle during the 15th and 16th centuries. Throughout its extensive history, spanning from temples to princely courts and eventually concert stages, Dhrupad endured at the fringes of artistic and cultural discourse, as well as patronage, for many centuries.
Engaging with Dhrupad offers a profoundly meditative experience, imbued with dynamism and awakening. Its core essence lies in a profound focus on the fundamental elements of sound, fostering a comprehensive coordination between the body, breath, and mind to cultivate a powerful means of musical expression. Thanks to the dedicated efforts of Dhrupad stalwarts in training and performance, as well as the ease of global outreach in the past half-century, Dhrupad is currently experiencing a remarkable international revival.
This resurgence is attributed, in part, to the universal nature of Dhrupad as a science of sound, which transcends cultural and language barriers and offers limitless possibilities to students and listeners from around the world, not just within India. Additionally, Dhrupad's applications in mindfulness and meditation, known as naad-yog or the yoga of sound, resonate with contemporary concerns, attracting learners from various backgrounds and professions worldwide.
The course at hand serves as an introduction to the exploration and appreciation of this ancient musical system, providing an opportunity to delve into the captivating world of Dhrupad – in particular the Dagar lineage of Dhrupad.
Course Objectives
This course aims to cultivate your appreciation for Dhrupad music while providing insights into its philosophy and aesthetic. You will engage in guided listening sessions featuring carefully selected audios of renowned Dhrupad maestros. In addition, there will be discussions exploring various aspects of this art form, complemented by suggested readings. By the end of the course, you will have developed a profound understanding and admiration for Dhrupad music.
Course Outcomes
You will have a better understanding of:
The history and evolution of Dhrupad music, along with an overview of its current state and forms
The philosophy of Dhrupad music, and what makes it a Yogic practice
Fundamental principles of Indian music in general, like Rāga and Tāl
The various components of a Dhrupad rendition
Overall appreciation of the art form itself
While this course does not primarily aim to teach you how to sing, there might be occasional opportunities for some light singing exercises to enhance your understanding of the principles being studied. However, the main focus of the course will be on developing your understanding and appreciation of Dhrupad. By immersing yourself in this art form, the course will facilitate the cultivation of a deep appreciation for its beauty and intricacies.
Course Syllabus
Theory Modules
Introduction, history and evolution of Dhrupad until the present day
The Dhrupad gharānās and bānīs – what are they?
Treatment of voice in Dhrupad/ the human instrument
Philosophy of Dhrupad
Important instruments of Dhrupad (Rudra Veena & Pakhawaj)
Understanding Rāga and Tāla – unique features of Indian music
The compositions and poetry of Dhrupad
Practical modules
Few simple melodic practices and exercises
Few simple rhythmic practices and exercises
Introduction to improvisation
Singing a simple Dhrupad composition
Course includes
Live sessions
Access to class recordings (for asynchronous participation)
Certificate of Completion